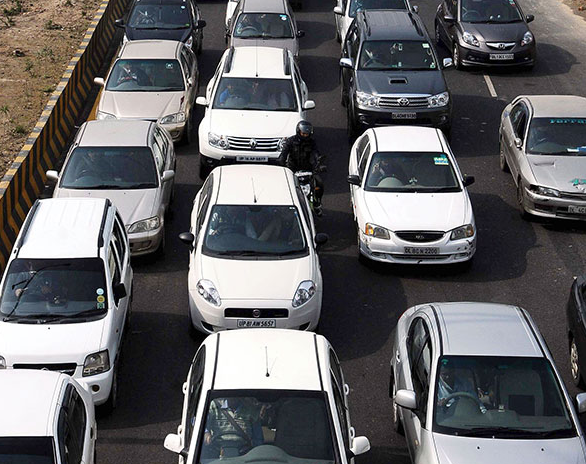 New Delhi: The Indian auto industrysuffered deep gashes in the month of February as all the segments saw significant decline in their sales numbers due to factors like high interest rates, subdued market sentiments, and high cost of insurance.
In a total, the industry sold 2,034,768 units of total automobiles last month, down 3.65 per cent as compared to 2,111,804 units in the same month last year, according to the Society of Automobile Manufacturers Association (SIAM) data.
These are the wholesale numbers as the companies do not reveal their retail sales data. In India, vehicles are considered sold when they leave the factory gates.
Passenger vehicles sales witnessed fourth consecutive month decline of 1.11 per cent at 272, 284 units in February 2019 compared to 275,346 units in year ago month. In November, December, January passenger vehicle sales declined by 3.43 per cent, 0.43 per cent, and 1.87 per cent respectively.
With the election coming the automobile purchase will remain lower in the coming months.Sugato Sen, Deputy Director General, SIAM
Passenger vehicle sales last saw growth in October, 2018 when the segment grew marginally by 1 per cent.
Revised axle norms, prevailing liquidity crunch, slow performance of core sector dragged the demand of commercial vehicle down by 0.43 per cent at 87,436 units in the second month of 2019. Within the segment highest de-growth can be seen in the medium and the heavy trucks segment (M&HCV) which declined by 8.77 per cent, suffering an additional brunt of high base effect.
"In the heavy truck segment high base effect also played quite a role. Last year was a very strong year, specially the second half, when the sales ranked up after the implementation of GST," said Shamsher Dewan, Vice President, Corporate Sector Ratings, ICRA.
Sales of two-wheeler also decreased by 4.22 per cent at 1,615,071 units due to low urban demand and impact of the revised insurance premiums. Three-wheeler sales, showing a similar trend, were down by 4.14 per cent at 59,875 units last month.
Apart from aforementioned factors, auto analysts feel that upcoming election season is also playing a crucial role in dialing down the sales. "The downtrend in all the segments is majorly because people are delaying their purchases and automakers are delaying launches due to the upcoming elections" said Gaurav Vangaal, Country Lead (Automotive LVP Forecasting), IHS Markit.
Commenting on the outlook, Sugato Sen, Deputy Director General, SIAM said "Auto retails and wholesales are not doing well starting with floods in Kerala last year. With the election coming the automobile purchase will remain lower in the coming months."
["source=auto.economictimes.indiatimes"]